The eCommerce industry has been the talk of the 'business town' for decades now, and there are no signs of this industry slowing down anytime soon.
As per Bill Borrelle, CMO of Pitney Bowes- "The eCommerce industry will experience dramatic changes in the coming few years, and digital transformation is going to be the major driving force behind that."
So what made this industry grow by leaps and bounds even during an uncertain and volatile economy? Experts believe that a combination of factors such as the rise in the internet and smartphone usage and value-consciousness among consumers are responsible for this evident eCommerce digital transformation in retail, manufacturing, electronics, and other industries.
If you ask customers what they like about online shopping, they can provide you with a long list of reasons. Your customers might not be aware of the nitty-gritty and hard work that goes into creating an eCommerce store. However, for them, the letter 'e' in eCommerce does stand for 'easy'. After all, no offline store can ever match the level of comfort that online shopping provides using digital mediums.
Now, instead of reflecting on the wonders of eCommerce in the past, let's dig a little deeper into the future of this ever-growing industry.
Definition of Digital Transformation
According to Gartner, a leading online research and advisory company, "Digital transformation can refer to anything from IT modernization (for example, cloud computing), to digital optimization, to the invention of new digital business models."
eCommerce is a large industry, and it's no big surprise that everyone wants to know the future of eCommerce in the light of digital transformation.
With technological revolutions like artificial intelligence, machine learning, and digital awareness, it's being hailed that the industry is going to experience a huge makeover.
Before we talk about the major trends, let's take a quick look at some issues that are ailing digital transformation eCommerce growth.
Some Evident Roadblocks In eCommerce Digital Transformation
Growing Fear Around Online Data Privacy
While eCommerce might be gaining immense popularity, internet users are still skeptical about entrusting companies with their data and concerned about its eventual use. Here are some enlightening statistics by Pew Research that point to the same.
Around 59% of people believe that online data may be false, and around 70% find it hard to believe in the credibility of online data.

Further, around 72% of people believe that organizations exploit their personal data without permission.
There is More to Digital Transformation than Technology
People fail to realize that digital transformation is not only about technology. but also about financial, cultural, and process readiness. Here are a few digital transformation examples in manufacturing to prove the point.

Successful transformation requires human empowerment, leadership, and ecosystems for leveraging technologies and human talent.
Mixed responses to the Adoption of Artificial Intelligence
The adoption of AI in eCommerce can be another major roadblock as there is no general consensus among the consumers. While some favor it, others are equally fearful. A study by Pegasystems sheds light on some key figures.
60% of people think AI alone cannot be trusted to make final decisions on an enterprise level.

52% find it hard to believe in AI and find it biased.
Further, it's important to have a clear-cut understanding of your business goals and team motivation. Any automation is only as efficient and as fast as the professional using it. In-house employee empowerment and motivation play critical roles in bringing success to digital transformation consulting in eCommerce.
Now that we have discussed the major issues let's move ahead to find out the upcoming trends and future of eCommerce in the light of digital transformation in manufacturing, consumer goods, electronics, and other industries.
ECommerce Digital Transformation: Trends to Watch for and Invest In
Digital business models, cost regulation, and customer experience lead the strategy charts.
eCommerce is a sector where customer experience can have astonishing effects. Disruptive competition is going to be more intense, with more and more brands joining the online race. Adopting digital business models with automated processes and smart cost-cutting methods are surely going to help brands carve successful strategies.
Most of the companies will be adopting the 'flywheel approach' with eCommerce customer experience as the center of all business operations and strategies.
5G is going to revolutionize the post-2020 scenario.
The number of subscribers, online shoppers, and internet users are going to boom in the coming decade. Millennial shoppers are going to increase in numbers and will look for even faster and more comfortable modes of delivery, shopping, and payment. 5G will change the landscape of eCommerce with its advent and empower the sector to cater to these demands.
As per an estimate, more than 2 billion shoppers will be added to the online shoppers' community; and 5G will undoubtedly create more eCommerce opportunities.
Analytics and virtualization will be top innovations.
More brands are expected to move towards virtualization to deliver exciting and innovative customer experiences. For example, virtual reality stations for checking furniture arrangement, to understand the look and feel of a place.
More brands will work on actionable analytics to develop better costing plans, better strategies, and better marketing techniques. Amazon, which is one of the fastest-growing eCommerce companies, is believed to emerge as a winner because of its awesome analytics-based strategic agendas. However, a lack of in-house skills and traditional IT can impede the success of such strategies.
More companies will opt for eCommerce automation.
Automation will become much more than simply a help desk software for business. More companies will adopt novel eCommerce automation for their warehouses, offices, and business units. Everything from real-time data sync, sorting, managing, and maintaining inventories, taking orders, and creating tickets can be automated.
Known as process automation, this approach will be used massively to free more time for business tasks, and other essential activities.
Cross-platform support for better customer experiences.
To stay afloat in the neck-to-neck competition, companies will be adopting the best help desk principles such as cross-platform support, and automated ticketing systems. A majority of shoppers use mobiles for online shopping, and the trend is going to gain figures in the coming years.
To cater to such huge numbers of online shoppers using mobile and a wide variety of digital devices, the companies must be ready with cross-platform and omnichannel customer support systems to stay in the game! Products like ProProfs helpdesk software will help brands to create amazing customer support systems.
Order fulfillment will be a game-changer.
With a large number of online shoppers added to the existing pool, order fulfillment will become a game-changer. Companies will be focusing on inventories (number and location), better and faster delivery methods, and reduction of cost and time for the same.
And, as customer expectations rise, so will the desire for flexible supply chains and the ability to modify and scale ordering workflows that already work.
Privacy and transparency will matter more.
With more data going around, brands will prioritize security and customer privacy. Enterprises will have more options when crafting security policies or choosing data protection tools and methodologies.
To restore faith, we'll see more emphasis on increasing transparency and privacy for better customer experiences.
B2B eCommerce will take the forefront.
B2B eCommerce companies are growing at a faster pace than B2C online companies.
According to Statista, sales, too, have been growing steadily over the past few years: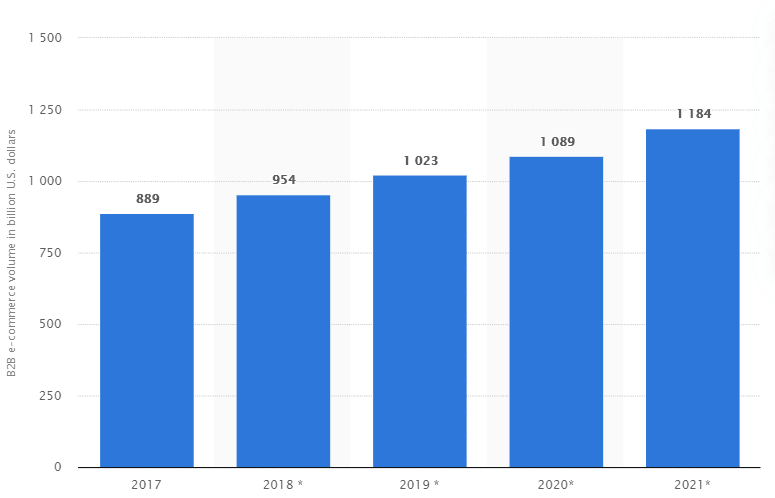 A report by Forrester predicts that US B2B eCommerce will reach $1.8 trillion and account for 17% of all B2B sales in the US by 2023.
Yet, B2B eCommerce isn't just about selling to end-consumers, but also manufacturers, wholesalers, resellers, 2nd and 3rd tier distributors, and other types of business entities. These buyers don't have time to call vendors, logistics partners, and supply chain professionals.
Considering that the majority of B2B searches now originate online (desktop, mobile, or voice search), it's crucial that B2B businesses quickly move to this selling channel. The first step is to use a B2B eCommerce platform to move their catalogs online, manage existing accounts and build new relationships effortlessly.