Increasingly, consumers expect seamless omnichannel buying and after-purchase experiences with multiple fast delivery options. Companies are responding to this challenge by adopting solutions to centrally manage the entire order lifecycle from the time their customers place the order to the time it is delivered. Dynamics 365 Intelligent Order Management enables organizations to adapt quickly and meet future order and fulfillment complexities while supporting contemporary methods like buying online or from an app for in-store or curbside pickup.
With Intelligent Order Management, business professionals gain real-time cross-channel inventory visibility and advanced analytical capabilities for better decision-making processes. Using AI-powered order insights, they can re-model and orchestrate the order fulfillment journey with easy-to-use drag and drop tools, and proactively overcome bottlenecks— all while driving efficiencies across the supply chain to ensure that their customers' needs are met on time and cost-effectively.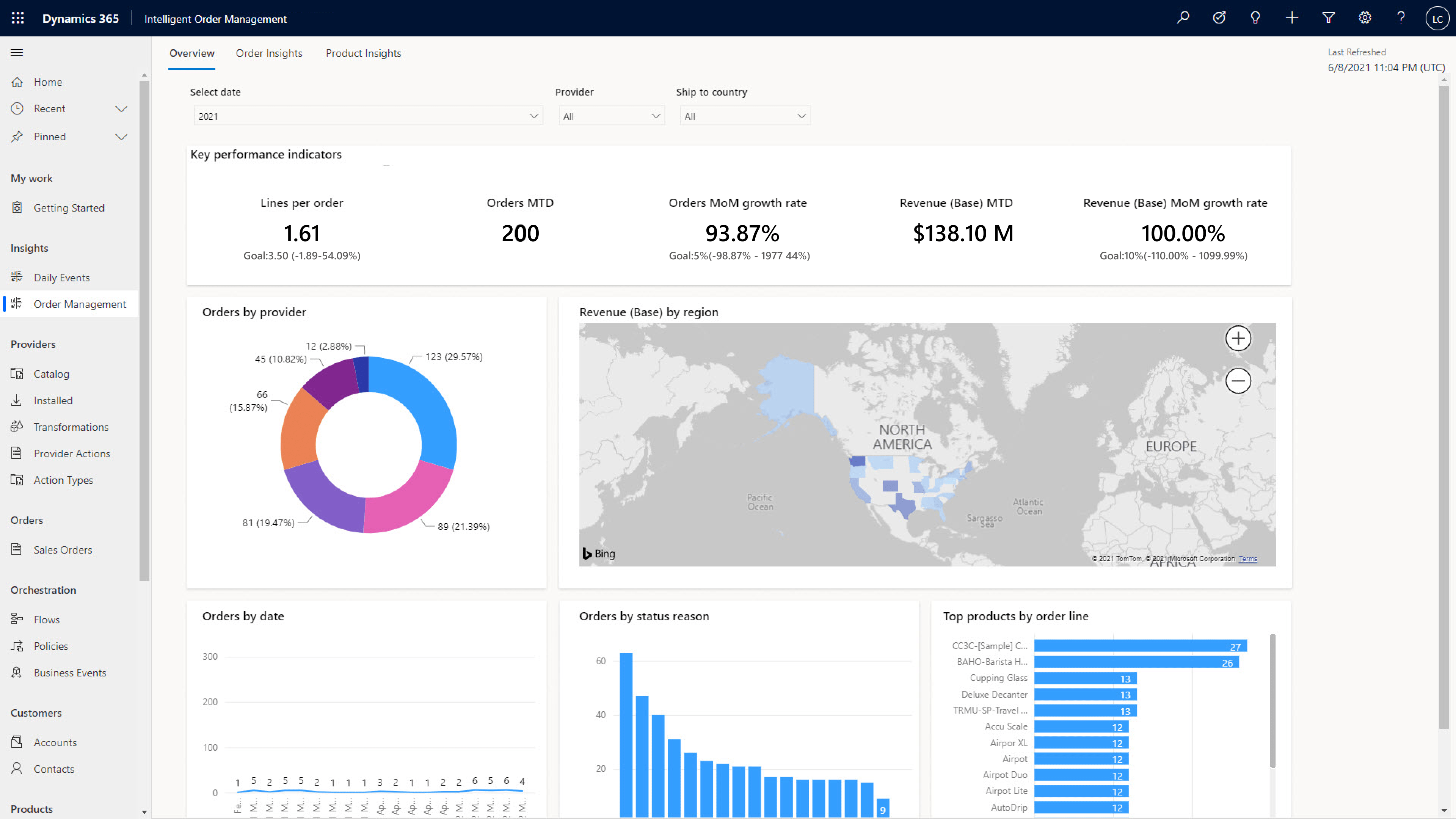 Order fulfillment becomes a competitive advantage
According to Statista, "In 2019, the same-day-delivery market in the United States amounted to 5.87 billion U.S. dollars. By 2024, this market is forecasted to reach 15.6 billion U.S. dollars. Same-day delivery in e-commerce in the U.S. is one of the most requested services." ¹
At Microsoft, we view this rise in demand for same-day delivery as an opportunity for businesses to turn order management into a competitive advantage. With Intelligent Order Management, we are providing businesses with the ability to meet these growing digital commerce needs by automating and optimizing fulfillment using real-time omnichannel inventory data supported by AI and machine learning.
Configurable, not coded
According to Gartner®, "by 2023, 50 percent of medium to large enterprise will have adopted a low code application program (LCAP) as one of their strategic application platforms."² In responding to the trend toward low-code/no-code (LC/NC) applications, our solution is designed to be configured, not coded, making it a more modern open platform. Moreover, it allows users to proactively overcome disruptions by reconfiguring order flows using a powerful but simple drag and drop interface. With these tools, users can rapidly deploy and scale with the latest fulfillment methods by leveraging pre-built connectors to various ERP, order intake, fulfillment, and delivery partner from our growing ecosystem.
Solution architecture
One of our objectives with Intelligent Order Management is to enable order intake from a variety of sources and pass them through the order orchestration, and process layers within the application. Intelligent Order Management's event-driven order orchestration services then coordinate the events triggered by various APIs to different system connectors to make optimal fulfillment decisions. These decisions are continuously communicated and tracked for the entire order life cycle across all fulfillment partners and legal entities.
We also wanted to ensure that Intelligent Order Management could be used with other legacy systems within your business and since this is built on the Microsoft Power Platform, it enables us to deliver the low code, no code environment that users need to adapt quickly and respond intelligently to constraints and disruptions in the supply chain.
What's next?
Dynamics 365 Intelligent Order Management allows companies to intelligently orchestrate fulfillment and automate order flows through a rules-based system with effective exception handling. Our groundbreaking solution also empowers business users with real rime visibility across inventory and order flows, and more importantly, provides the capability to quickly adjust and change any order path. Intelligent Order Management uses machine learning to learn how business users react to each exception and provide better recommendations each time–helping them achieve optimal stock levels and improve cash flow.